For ten years, the development of habitats and their species inventories was monitored in the Schorfheide-Chorin and Spreewald biosphere reserves in the state of Brandenburg. Booklets and posters provide information on the results of the programme.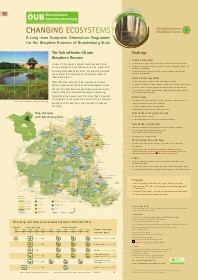 The insights gained from IEM studies will influence the biosphere reserve's strategic goals for the next 10 years and enter into the planning of current projects and activities. They provide an essential basis for environmental education and discourses on regional development and can help to shape and enliven a sustainably managed model region.
My contribution: Translating the texts into English.